London, 18th July 2013 – Aubergine balls provide a good alternative to traditional meatballs. I like to serve them with a simple onion and tomato sauce, pasta and fresh basil.
There are many different versions of this dish. Some people fry the aubergine cubes before shaping them into a ball, others bake the aubergine until soft. Aubergines absorb a huge amount of oil when they are fried and shrink considerably when they are baked. I decided to boil them and then fry the aubergine balls in a frying pan with a minimum amount of oil.
The result is an aubergine ball with a soft centre and a mouth watering crispy crust.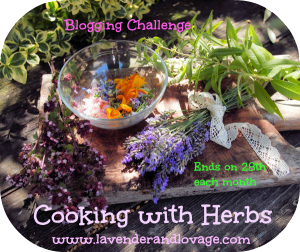 I'm entering this recipe into the July's Cooking with Herbs Challenge (Herbs on Saturday) which is organised by Karen from Lavender and Lovage.
RECIPE WITH STEP BY STEP PICTURES
POLPETTE DI MELANZANE E SPAGHETTI
(Italian Aubergine Balls and Spaghetti)
SERVES 4, PREP 20 MIN + REST 30 MIN, COOK 1 HOUR and 30 MIN
Ingredients
Aubergine balls (about 29 aubergine balls)

700 g aubergine, cut into cubes
50 g bread, wet and excess liquid squeezed out
1 egg, slightly beaten
1 garlic clove, minced
50 g parmesan mixed with pecorino Romano, grated (you can use a good hard cheese as a substitute).
10 g fresh flat-leaf parsley, finely chopped
sea salt
2 tbsp plain flour
2 tbsp extra virgin olive oil for frying
Tomato Sauce and Pasta
700 g cooked tomato sauce (please see my recipe tomato sauce with onion, you need to double the recipe in order to obtain 700 g cooked tomato sauce).
300 g spaghetti
pecorino and Parmesan cheese
fresh basil leaves
Method (for a printable version, please scroll down to the bottom):
Cook the aubergine cubes in a large saucepan of boiling salted water for 10 minutes or until soft.
Drain thoroughly and squeeze any excess liquid (It is very important to squeeze out the liquid!)
Place the cooked aubergine on a cutting board and cut it into very fine pieces.
Place the aubergine pieces into a large bowl and then add bread, egg, garlic, cheeses and parsley. Season it with salt.
Mix all the ingredients until well incorporated.
Place the aubergine mixture in the fridge to rest for 30 minutes or until you need it while you prepare the tomato sauce (please see my recipe tomato sauce with onion and double the recipe).
Pour the flour onto the cutting board, take a heaped tablespoon of aubergine mix and shape it into a small ball (golf ball size), then roll it briefly in the flour. Repeat until all the mixture has been used (you should have about 29 aubergine balls).
Heat 2 tbsp of extra virgin olive oil in a non stick frying pan. Add the aubergine balls to the hot frying pan, and then quickly but gently fry for 2-3 minutes on each side until lightly golden.
Remove the aubergine balls from the pan and drain them on absorbent kitchen paper.
Add the drained aubergine balls to half of the warm tomato sauce and gently mix so all balls are covered in sauce. Set aside, keeping warm
Meanwhile, cook the spaghetti in boiling salted water according to the packet instructions; drain the pasta thoroughly, add it to the remaining tomato sauce and mix well.
Serve sprinkled with Pecorino, Parmesan cheese and fresh basil leaves.
PRINT THIS RECIPE