London, 13th September 2012 – For a few years I enjoyed sharing a community vegetable patch, but since the beginning of June I have, for the first time, obtained my own allotment. It was too late for sowing and anyway the ground needed to be prepared.
My husband and I have spent the summer digging the soil to remove weeds and roots. This has been a hard and tiring job. After three months, the garden looks very different, and the few plants we put in have begun to grow.
Suddenly, we are experiencing a glut of runner beans. We had been so busy digging that we did not notice that the plants were full of beans to pick!
The runner beans are also popular in Italy during the summer. The easiest way to eat these vegetables is to boil them and season with salt and olive oil or in a quick sauce made with fresh and ripe tomatoes. In the traditional recipe a lot of basil is added to the sauce. In this recipe I have used a mix of basil and chives.
I'm entering this recipe made from scratch using fresh herbs into Karen's Herbs on a Saturday challenge over at Lavender and lovage and Javelin Warrior's Made with Love Mondays over at Cookin w/ Luv
19th September update – I'm entering this recipe into No Croutons Required. This is a monthly blogging event that is hosted by Tinned Tomatoes and Lisa's Kitchen. The theme for this month is vegan soup or salad and is hosted by Lisa over at Lisa's Kitchen.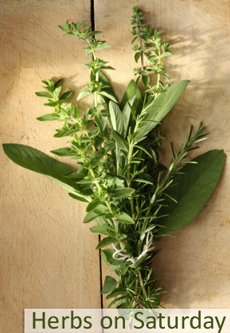 Recipe with step by step pictures
FAGIOLINI CON SUGO DI POMODORO FRESCO (runner beans in fresh tomato sauce)
SERVES 4, PREP 10 MINS, COOK 12 MINUTES
Ingredients:
200 g runner beans (young, small beans taste better and have not become chewy)
4 tbsp extra virgin olive oil
1 clove of garlic, peeled and finely sliced
100 g ripe fresh tomatoes (I used cherry tomatoes), cut into quarters
1 tbsp water
sea salt
a pinch of sugar (if the tomatoes are too acid)
basil leaves, roughly torn
chives, roughly chopped
Method:
Bring a saucepan of slightly salted water to the boil.
Wash the runner beans and remove the tips (top and tail). Slice long beans in half and then diagonally if wide.
Add the runner beans to the boiling salted water. Cook the vegetables for 5 – 6 minutes or until al dente (firm to the bite).
Drain the water out of the saucepan and set the vegetables aside.
Heat the oil in a large saucepan and add the garlic. Fry for 3 minutes over a low-medium heat until the garlic is golden brown.
Add the tomatoes, water, salt and sugar (if used) to the garlicky oil. Cook the sauce, stirring occasionally, for 3 minutes or until the tomatoes start to soften.
Add the cooked runner beans and herbs to the tomato sauce and mix well.
Serve these runner beans warm or cold.
PRINT THIS RECIPE